Something still attracts people to traffic exchanges, even though they get a bad rap from many marketers who have tried using them and failed. One of the biggest reasons why so many marketers did not see any success from free traffic exchanges was mainly due to the way they used them. Many new marketers sign up for different traffic exchanges in hopes of generating revenue, adsense clicks and affiliate sales. It isn't until weeks or months later when they look at the disappointing numbers and realize that something is not working for them.

The first golden rule that I like to tell people is don't expect to sell anything from traffic exchanges. The second golden rule is not to use your website as one of the promotional sites through the manual traffic exchanges. Follow below as I will explain more and give some other important details on how to use manual traffic exchanges more effectively to gain leads for your online business.

Different Types of Traffic Exchanges

If you have never experienced the use of free traffic exchanges, then you will be somewhat shocked by the sheer number of them and how they operate. The number one difference between manual traffic exchanges is whether they are manual or automatic. Even though the principle function is the same, the variety of TE's that are available along with some of the distinctive features is something to think about when using them.


Manual Traffic Exchanges utilize a system that makes surfers look at each of the individual members pages before moving on to the next and gaining credits. Manual TE's give you a better chance to at least have the page that you are promoting seen by others, versus the automatic exchanges.
Automatic Traffic Exchanges work on a different system that continuously rotates member's pages without clicking. With these types of exchanges you can literally open a different browser and let the pages rotate without ever looking at them and at the same time earn credits. This might sound like a good way to get your pages seen, but if everyone else is doing the same thing, than nobody is looking at any of the members pages. In simple terms, this would not be an effective way to promote your pages.

Finding The Right Manual Traffic Exchanges

Since many of them have different features, it would be wise to check each manual traffic exhange before choosing which one is best for you. One feature to check for is whether or not they have some kind of downline builder program for you. This will help you to earn additional credits from each member in your downline. Having enough credits is part of the strategy of using TE's, the more credits that you have, the more opportunities for your pages to be seen by others.

Another important feature to look for with any manual traffic exchange is the timer or the amount of time required by the exchange to view each page. This is an important detail as the longer a member has to look at your page; the better it is for you. Timers with each TE vary anywhere from 6 seconds per page view to 30 thirty seconds. It is my opinion that any exchange with a timer of less than 10 seconds per page view will not be worth your time.

Why not use your own website in the manual page rotations? First of all, people surfing the manual traffic exchanges do not want to spend time reading lengthy sales pages or offers. Besides that, you only have seconds to get your message across before surfers click through to the next site.

The most effective page to use on TE's is a lead capture page, squeeze page or what is more commonly used in traffic exchanges, a splash page. Splash pages are fast loading (which is extremely important) pages that are very similar to a squeeze page. Splash pages can offer a catchy headline, some obvious bullet points and a sign up form that loads faster than most pages. Since time is against you, it makes sense to have pages that will load onto a screen instantly so the viewer has an opportunity to see your page before clicking on.

The goal of any marketer who uses TE's should be gaining leads for your opt in list. Since you are basically promoting side by side with other marketers with the same intentions, you need to initiate a tactic that will help you to gain leads. Sometimes the best way to accomplish this is by offering a freebie that will entice surfers to sign up. You may have to test several items before you find the one that really converts for you, but it is a tactic that works well with many internet marketers.

Remember, any marketing with traffic exchanges can be effective and gain conversions as long as you do it the right way. Choose the right traffic exchanges that will give your pages more of an opportunity to be seen and use splash pages or squeeze pages that will load instantly. Give surfers enough time to see your pages.





The following traffic exchange programs I have found to be responsive and worth the time and effort surfing. Each of the TE's below is easy and Free to sign up with.


Download this free eBook Now

"Traffic Exchange Secrets"

>> No Opt-Required <<

It is my gift to you just for visiting this page.

Thank you, Kevin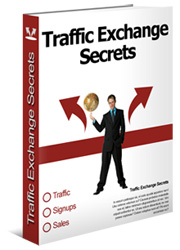 2008 - 2012 moneytoday.synthasite.com